@Rynda Entrepreneurs & Mental Health #ElevateTheConvo Twitter Chat
Entrepreneurs and Mental Health: What to Do When You are Up on the High Wire
OVERVIEW:
https://wakelet.com/wake/abeec191-af9c-47c0-9520-ac4f29c91fec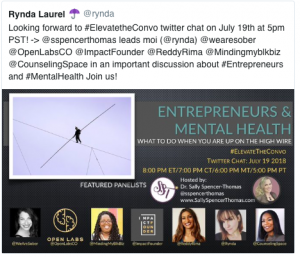 ---
Also in VRY NEWS
We launched VRYeveryday in 2018 as the first all natural supplement line 100% dedicated to supporting Mental Health and Wellbeing. 
It has always been our mission to be part of the discussion in supporting multiple pathways to wellbeing to include all natural support for the key neurotransmitters associated with mood balance. Today, we are grateful that this subject has gained much needed attention world wide and there are such things as #MentalHealthAction Day and #MentalHealthAwarenessMonth.
In this episode I'm joined by music industry executive and wellness entrepreneur Rynda Laurel who shares her journey from addiction and depression to taking charge of her own mental health & wellness by starting a natural supplements business called 
VRYeveryday
...
Our founder Rynda Laurel
 joins the Crooners in Coffee Shops
 podcast to talk music, mental health, VRYeveryday
 and wisdom from Grandma- "You can only compare yourself to yourself"  ☕️