Rynda Laurel on A Sober Girls Guide Podcast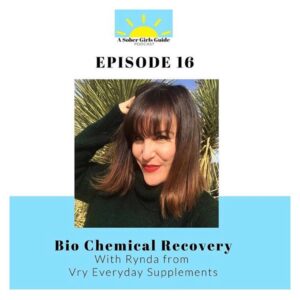 New podcast episode is out now with 
Rynda Laurel
 of VRyeveryday supplements. Don't worry you don't have to be a doctor or a scientist to understand biochemical recovery. Rynda explains what it is and why bio chemical recovery is a vital component to any successful recovery. Also use promo code : asobergirlsguide for 10% off your order at 
www.vryeverday.com
LISTEN on
itunes
---
Also in VRY NEWS
We are happy to be part of the Backline 2022 Holiday Gift Guide!
Our founder, Rynda Laurel, is on the Backline wellness advisory board, giving back to an industry that needs to take care of its own mental health as so many of us depend on MUSIC so heavily for our own mental health! 
We will also donate 5% of all sales now through Giving Tuesday (11/29).
Voting is the most empowering thing you can do to make your voice heard. It's also ok to have intense anxiety and mood swings today and this week while votes are counted in the US.   Please take care of yourself. 
50% off Serenity or Anxiety No More Duo!
Use "ivoted22" at check out 11/8 thru 11/14 for 50% off Serenity or the "Anxiety No More" Duo.
Yes, that's right 50%!!! 
We launched VRYeveryday in 2018 as the first all natural supplement line 100% dedicated to supporting Mental Health and Wellbeing. 
It has always been our mission to be part of the discussion in supporting multiple pathways to wellbeing to include all natural support for the key neurotransmitters associated with mood balance. Today, we are grateful that this subject has gained much needed attention world wide and there are such things as #MentalHealthAction Day and #MentalHealthAwarenessMonth.