Rynda Laurel talks VRYeveryday on Sobriety Starts Here!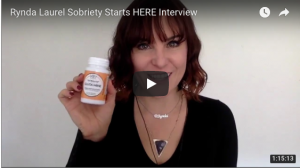 ---
Also in VRY NEWS
First, I want to sincerely thank you for being a VRYeveryday Customer over the years! It has meant so much to me and those involved in the company to have helped so many of you. I know we have by the messages, emails and direct comments to me over the years. I will ALWAYS be proud of getting the message of holistic natural solutions for mental health out into the world. 
After a lot of internal discussions and personal soul searching, I have decided that we will be sunsetting our formulas by the end of this year as we consider the company's future.
We have plenty of stock on our most popular formulas - SERENITY, PINK CLOUD and DOPAMIND. 
To that end->  There is an automatic discount in place on our website for 50% off those three formulas and any sets they are a part of. There is no limit to usage, it's open until August 31st. 
Thank you again for being on the VRY journey with me! Feel free to reach back out if you have any questions.  
💜 -Rynda Laurel, Founder
We are happy to be part of the Backline 2022 Holiday Gift Guide!
Our founder, Rynda Laurel, is on the Backline wellness advisory board, giving back to an industry that needs to take care of its own mental health as so many of us depend on MUSIC so heavily for our own mental health! 
We will also donate 5% of all sales now through Giving Tuesday (11/29).
Voting is the most empowering thing you can do to make your voice heard. It's also ok to have intense anxiety and mood swings today and this week while votes are counted in the US.   Please take care of yourself. 
50% off Serenity or Anxiety No More Duo!
Use "ivoted22" at check out 11/8 thru 11/14 for 50% off Serenity or the "Anxiety No More" Duo.
Yes, that's right 50%!!!